How a New Graduate Launched His Solo Practice With Jane
Dr. Nick Meier is a Doctor of Chiropractic Medicine and owner of Meier Family Chiropractic in Waukee, Iowa, USA. Recently he sat down with Destin from the Jane Community Team to share his journey to becoming a chiropractor, his unexpected start as a solo practitioner and how Jane has been with him from day one helping him to build, grow and run a successful practice.
Nick's Top 5 Jane Features for Chiropractors
Why Did You Decide to Become a Chiropractor?
I knew early on that I wanted to work with people and, more specifically, help people. Both my parents are teachers and spent their lives and careers helping others. Through that, they instilled a desire for the same in both my brother and me.
I grew up being the one in my friend group that was a shoulder to lean on for support and an ear for listening to problems. This sparked in me an interest in turning that type of help into a career. This led me to attend Iowa State University with plans to become a psychologist.
However, after a personal health-scare and a positive experience with my own chiropractor, I knew that I wanted to learn how to do what he did; that's how I wanted to be helping people.
I left psychology, and I jumped on the chiropractic bandwagon and never looked back. I started attending chiropractic seminars while I was still an undergrad at Iowa State, and then in 2014, I started at Palmer College of Chiropractic in Davenport and graduated in 2018.
Can You Tell Us a Little Bit About Your Practice?
I had initially planned on joining the practice of my mentor after I graduated. However, somebody made him an offer on his practice that he would have been foolish to refuse. So there I was a fresh graduate with nowhere to go.
That was in August of 2018. By October of the same year, I had my office legally established and opened the doors to Meier Family Chiropractic in December. You can get a virtual tour of my clinic here.
When I opened, because everything happened so quickly, I had not budgeted to be operating as a solo practitioner. I invested about $10,000 into my office and had about $2000 in the bank to survive both personally and professionally. However, by my third month open, I had broken even, and it's all been up from there.
So, though it wasn't what I had initially planned, everything has worked out. Being my own boss is perfect for me - I have flexible hours, and I am able to do whatever I need throughout the day. And my practice is still growing - it's only a year and a half old.
I am lucky to have a colleague in this same building who is a more established chiropractor. He has a lot of the larger equipment needed, which I am able to use, meaning I didn't have the overhead of purchasing expensive equipment or doing things like renovations for changing rooms or laundry facilities when starting out. I am sure I will have to do these things down the road when I branch out and get my own office space, but while my practice is still young and growing, this is an awesome opportunity to keep my expenses low.
Why Did You Choose Jane?
I have been with Jane for about a year and a half and started with Jane pretty much right off the bat when I was opening my practice.
I heard about Jane through my network. There are a lot of different Facebook groups for chiropractors and text groups that I am a part of, and Jane kept getting recommended in those groups. I also remember posting to a chiro forum asking what EHR I should use, and Jane was one of the top recommendations.
So, based on all of the positive feedback, I went and checked out the Jane website and started watching some of the videos and honestly, it just looked so easy to get started. Another platform I had looked into seemed really complicated and felt like I would have to pay someone to set it up for me.
Because Jane is so easy to set up on your own, when I had an onboarding call with the Jane Support Team, they literally asked me what I was looking to get out of the call because I had basically done all of the set up on my own. So, instead of account setup and onboarding, we spent the hour talking about insurance which was amazing.
The other thing that helped me decide on Jane was the cost. With Jane, $74 a month for the base plan is a bargain compared to some of the other platforms that start at a couple of hundred dollars per month, and you have to pay extra for things like text alerts and email. With Jane, those things are included in the base plan which is great.
How Do You Find Jane to Be the Most Helpful to You?
Right now, I don't have a staff. It's just me. But with Jane, the way everything is set up, it's so user friendly. I go to the Day View, and I'll click on the patient to pull up the chart. Click on it again, and it will pull up the Appointment View. Here I can click Arrive, do the chart and the patient will be done. Then it's just three more clicks to take payment. That's it. I can do everything needed for a patient by myself so quickly without having a staff person at this time. It's just so streamlined.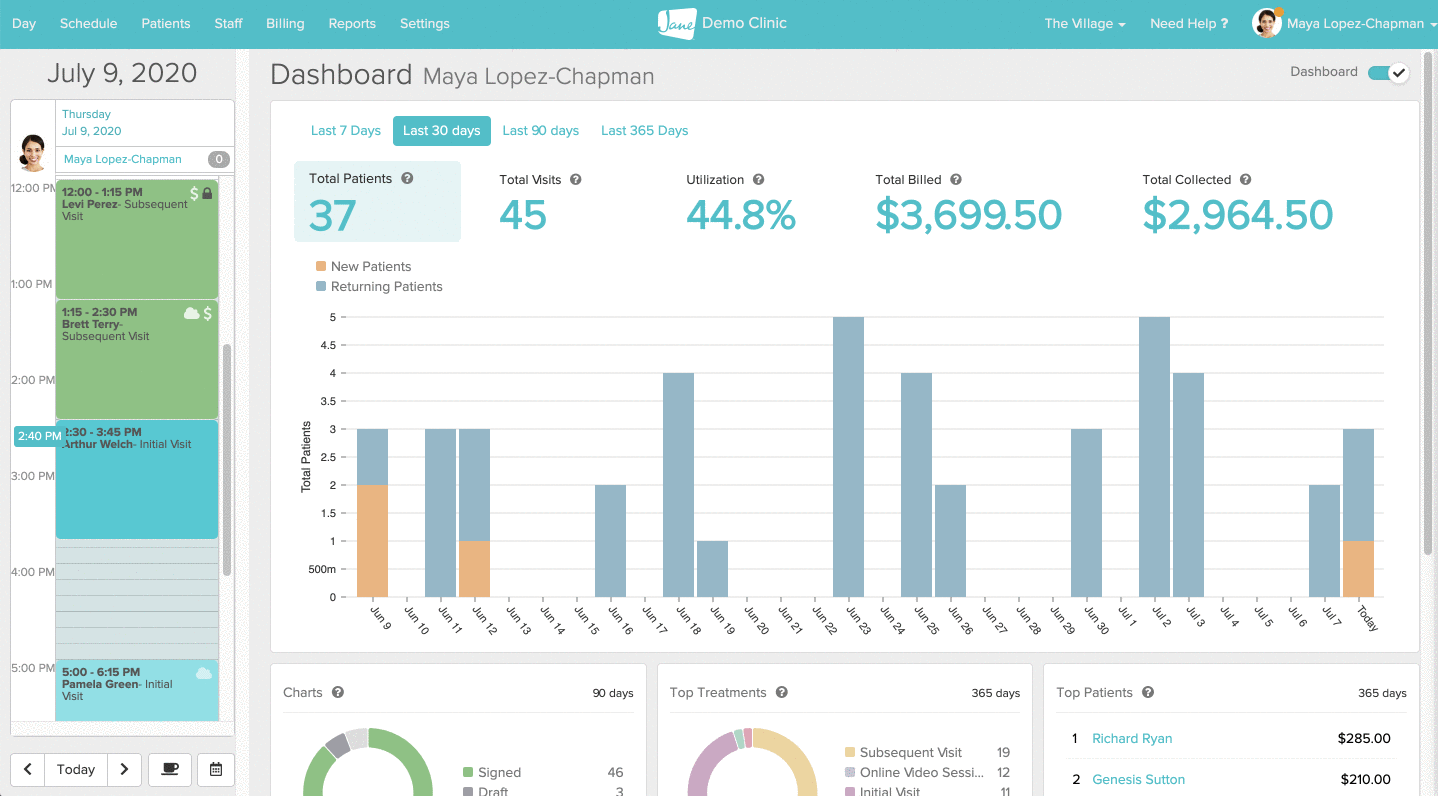 Plus, I know that Jane is always trying to improve the platform. I've called and spoken to so many different people on the Jane team and offered comments and feedback, and they're so receptive. I've also been included on the beta for some new charting features that are being developed, and I just heard about the new phrases charting feature that's coming out soon. That's going to be amazing. I love it. I can't believe I didn't think of it!
🎉 When we first interviewed Nick, our Phrases feature was not yet available. However, we are excited to share that Phrases is now live! With our newest charting feature, you can instantly transform a shortcut into entire sentences, paragraphs, or lists with Jane's built-in text expander. Learn more here.
Do You Have A Favourite Jane Feature?
Hard to choose just one. I really love the integrated credit card processing because it's just so simple. If I had to have a separate billing or accounting type of software outside of Jane, it would take up so much time when I'm already so busy. I don't want to spend all day balancing books, and I don't have to with Jane.
I know it's not released yet, but the new phrases charting feature might be my next favourite one, and I haven't even tried it out yet!
And one other is probably the EDI insurance claim submission process. I'm new with doing electronic claim submissions, but I'm really starting to like it now that I'm getting everything set up perfectly.
Anything Else You Would like to Share with Someone Considering Jane?
Jane has everything that we need. Whether it's the customizable text reminders which have helped me very, very rarely have a no show at my office, to the pay balance email I can send when payment is outstanding, to clients being able to create their own account where I can share an image of their x-ray or whatever documents I need. Plus, the customizable charting is just so perfect.
---
If you're not already part of the Jane community, welcome! We're so glad you found us. If you're a Chiropractor looking for an all-in-one EHR and scheduling software, we think you should meet Jane. Take a virtual tour, book a demo with one of our lovely support staff, or sign up here! Or, check out what our customers are saying about us in the jane.app Community Forum. We can't wait to chat.