Happy Friday Everyone,
We have 10 things to tell you about. But first, we are very pleased to announce that we have not added a rainbow behind our logo! So, rest assured.
Here's an overview of the new features and improvements we've been working on recently:
1. Your customers can pay an open balance online
You can now send your customer an email with a link that allows them to pay their open balance by credit card online. This feature is available to anyone who has signed by for our new Jane Payments system by Payfirma.

2. Privacy Mode
If you're ever in a scenario where your clients can see your Jane screen, and you want to make sure they don't see anything related to other customers, just hold down Shift and press P on your keyboard, and all the sensitive details will become blurry.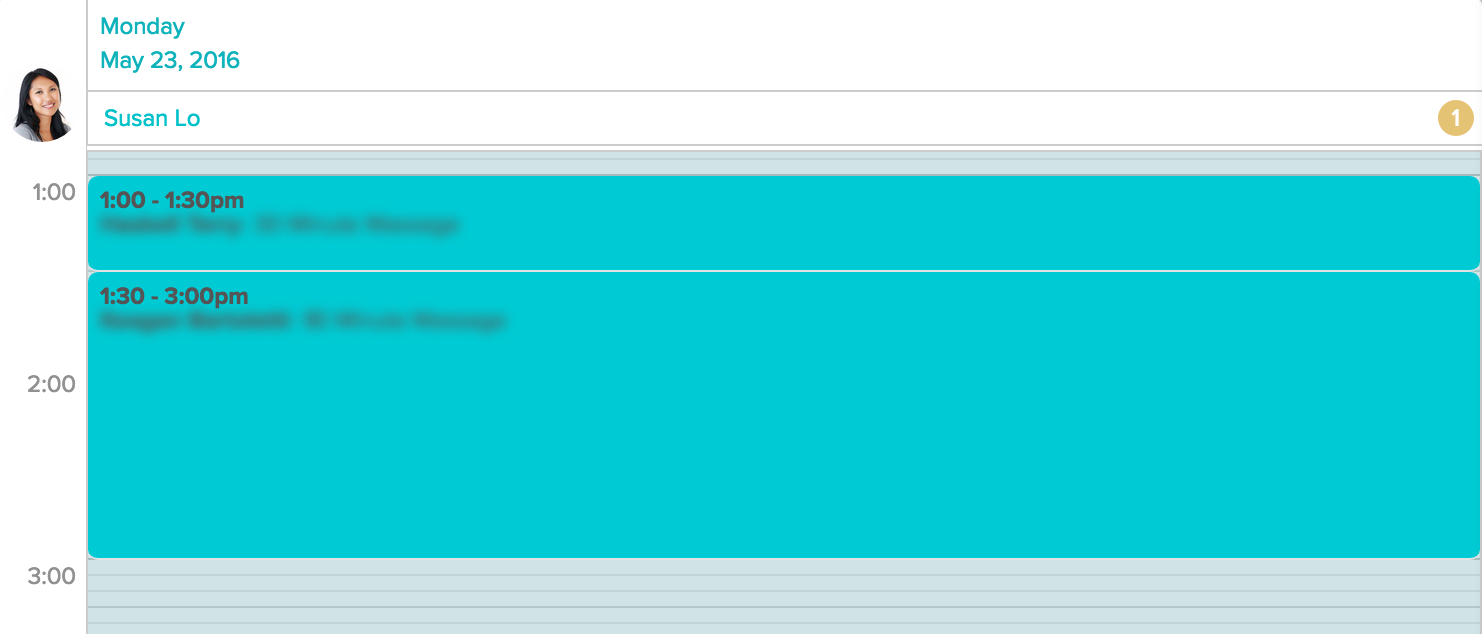 3. Default Adjustments
You can now set a default adjustment on a customer's profile, that will be automatically added to all future purchases. This is fantastic for a corporate discount, or even a discount for a pre-paid package of treatments.

4. Limited Practitioner Role
Staff profiles can now be limited to see only themselves in Jane. Set them to the Practitioner Limited role, and when they sign in, they will only see their own schedule, and only be able to browse patients with whom they have had a visit.

5. New Claim Screen
We launched this a while back, but haven't had a chance to tell you about it. Jane's new claim screen provides a nice snapshot of information related to a patient's insurance policy. It shows relevant patient demographic information, like their health number and birth date, and also a list of all purchases for that claim.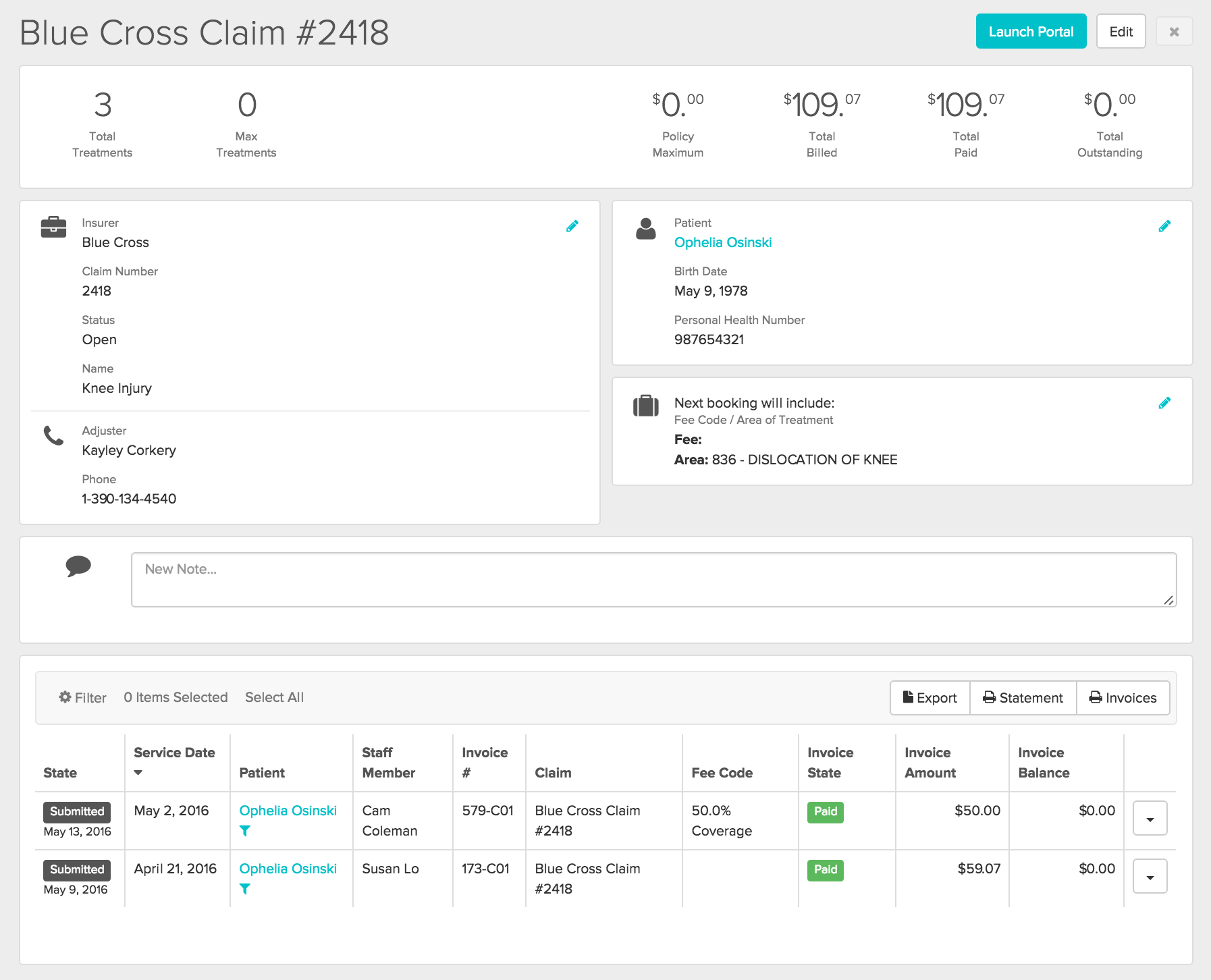 6. Launch Insurance Portal
If you're doing direct billing through an insurer's portal, you can set the web address of the portal in Jane's insurer settings. This will enable a super handy Launch Portal button on the new claim screen.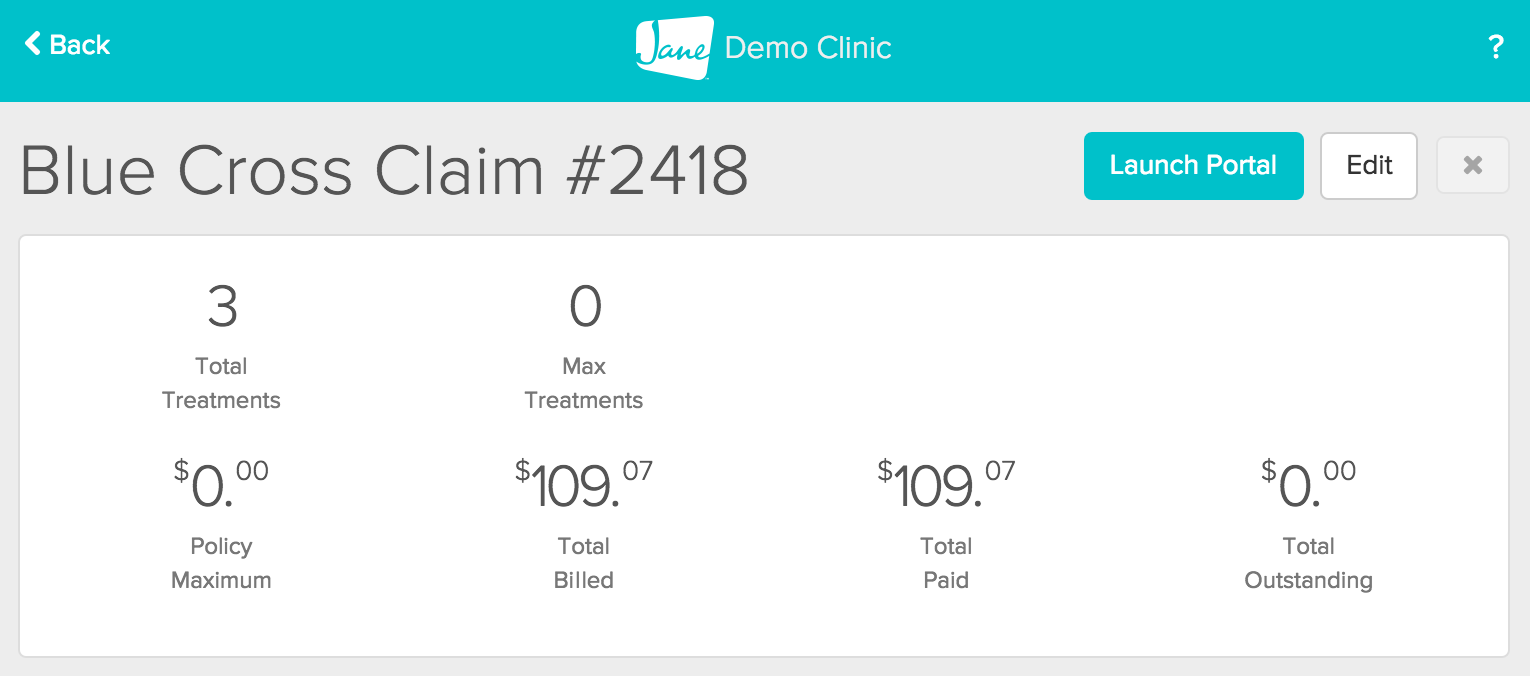 7. New Reports
Daily Transaction Report - View a whole month of transactions in an easy to browse format, grouped by day.
Credit Memo Report - This report shows all credit memos created in a date range.
Summary Report: Credit Applied - There is a new section at the bottom of the Billing Summary report that shows the amount of credit applied during the date range.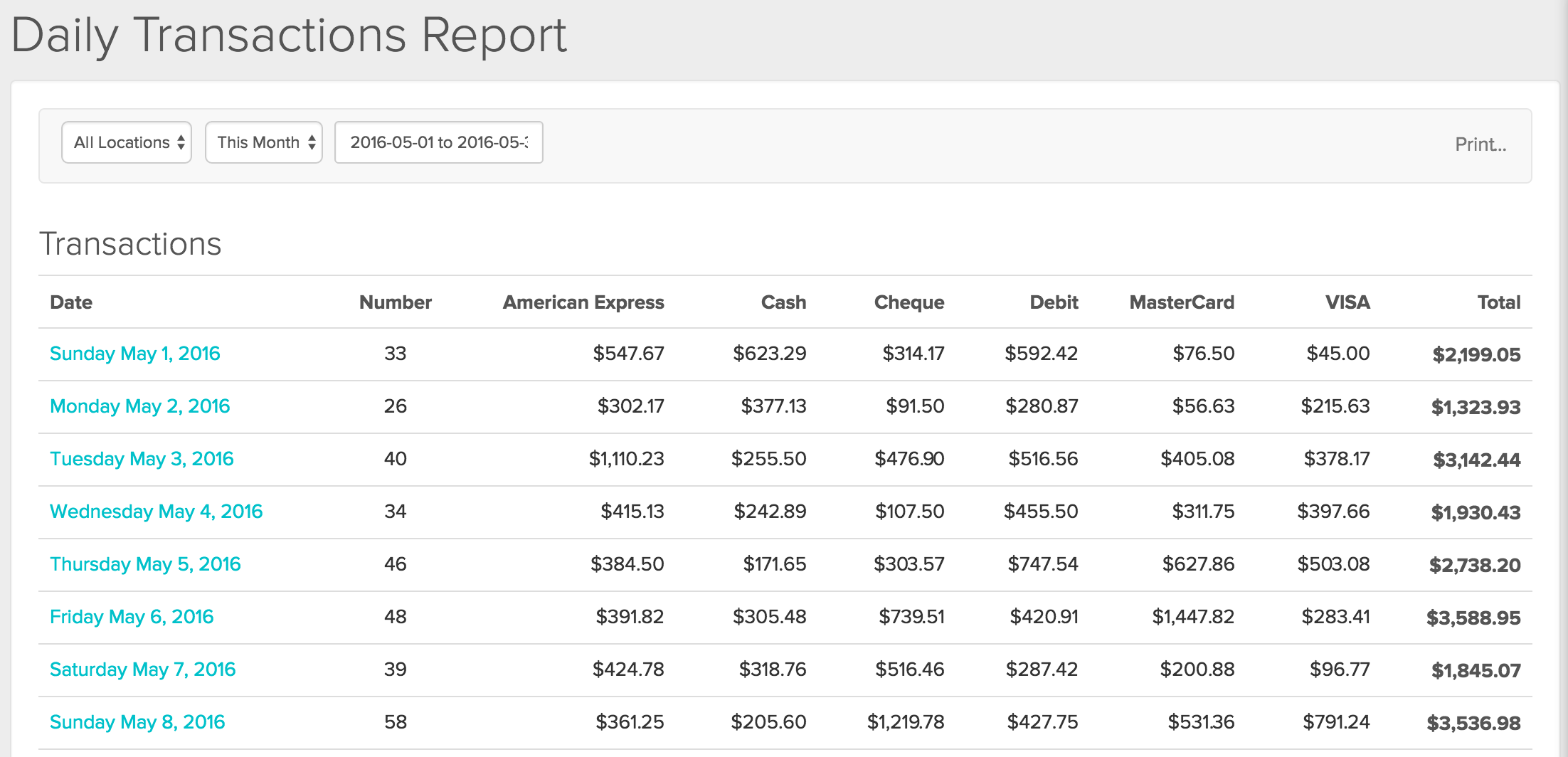 8. Filtering Payments
There are a number of handy filters available now on patient and insurer payments tabs, allowing you to filter by location, payment method, balance remaining, amount, and date range.

9. Invoice / Receipt Display Options
You can now add some default "fine print" to all invoices, statements, and receipts. European customers could mention here that all prices include VAT, or you could add any business numbers or legal information here.
There are also a number of new preferences on how to display taxes on invoices and receipts for our American & international customers. You can display all amounts inclusive of tax, or group your individual taxes together as a single tax line item.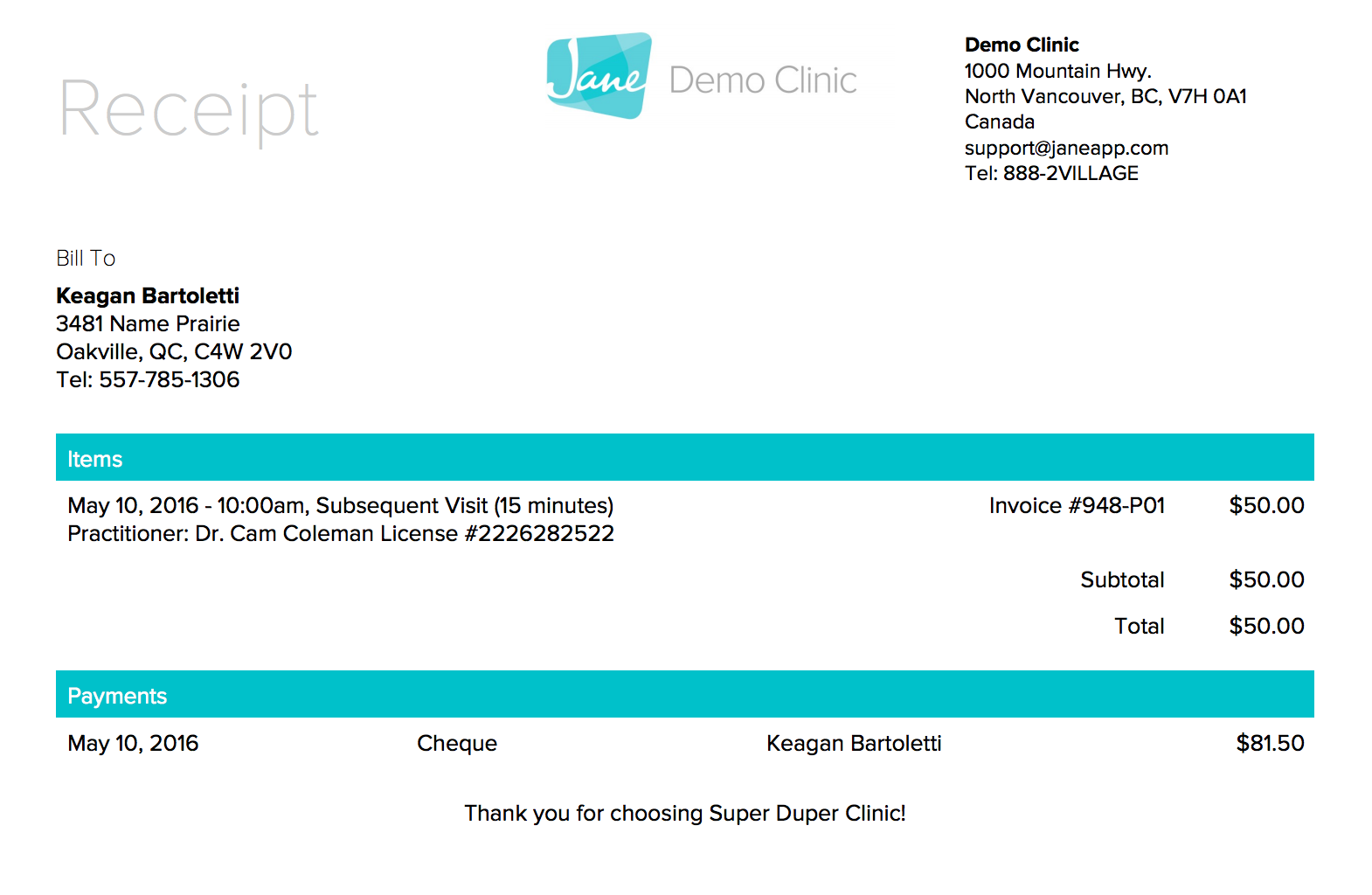 10. Honourable Mentions
Email appointment notifications and reminders now include an attached ICS file that will provide an even quicker way for your customers to add the appointment to their calendar app. They still have the option to subscribe to all future appointments in their calendar app using the subscription link.
Change the word "Treatment" throughout Jane. We have a few other options for how to refer to the services you offer: Service, Session, Class, Option. Let us know if you would like another option here.
Intake Forms now skip step 2 if there are no questionnaires to fill out.
Thanks everyone! As always, let us know your thoughts on how Jane is working for you. We really appreciate your feedback.
The Jane Team