First stop? Google.
About 81% of us ask the World Wide Web for suggestions, advice and guidance on everything from restaurants to healthcare.
Why should this matter to clinics and to you?
Turning strangers into returning clients rarely starts in a physical location anymore - it now begins online.
This is your first opportunity to greet so called "window shoppers" right where they are: ONLINE. Your online booking page is a virtual waiting room – essentially, this is your clinic's first impression to the world. Once you've said a virtual hello, you can instantly turn that internet researcher into a client with a booked appointment, and with one click of a button, booked clients STOP looking for other options.
From the very start, Jane's online booking was designed with this friendly and helpful philosophy in mind, and here are 5 tips to help you make the most of what Jane has to offer.
5 Tips to Turn Your Online Booking into a Virtual Waiting Room
#1 Think about online booking as a first impression.
One of the most powerful changes you can make is to your thought process.
The first question you should ask yourself is: What does our online booking say about our clinic?
Take the time to consider what you intentionally want to show people and how you want to make them feel. Should your online booking system indicate that your clinic is friendly or would you like professional or reliable to be the first thing that comes to people's minds?
We know you care a great deal about your clinical practice, and you want to ensure that your online story introduces you and your practice the same way you would introduce yourself in person. Never underestimate the power of that first point of contact between potential clients and the online experience with your brand. Jane has prioritized a beautiful and personal design in online booking so that your first impression will be a positive one.
Check out this example of a branded online booking page powered by Jane: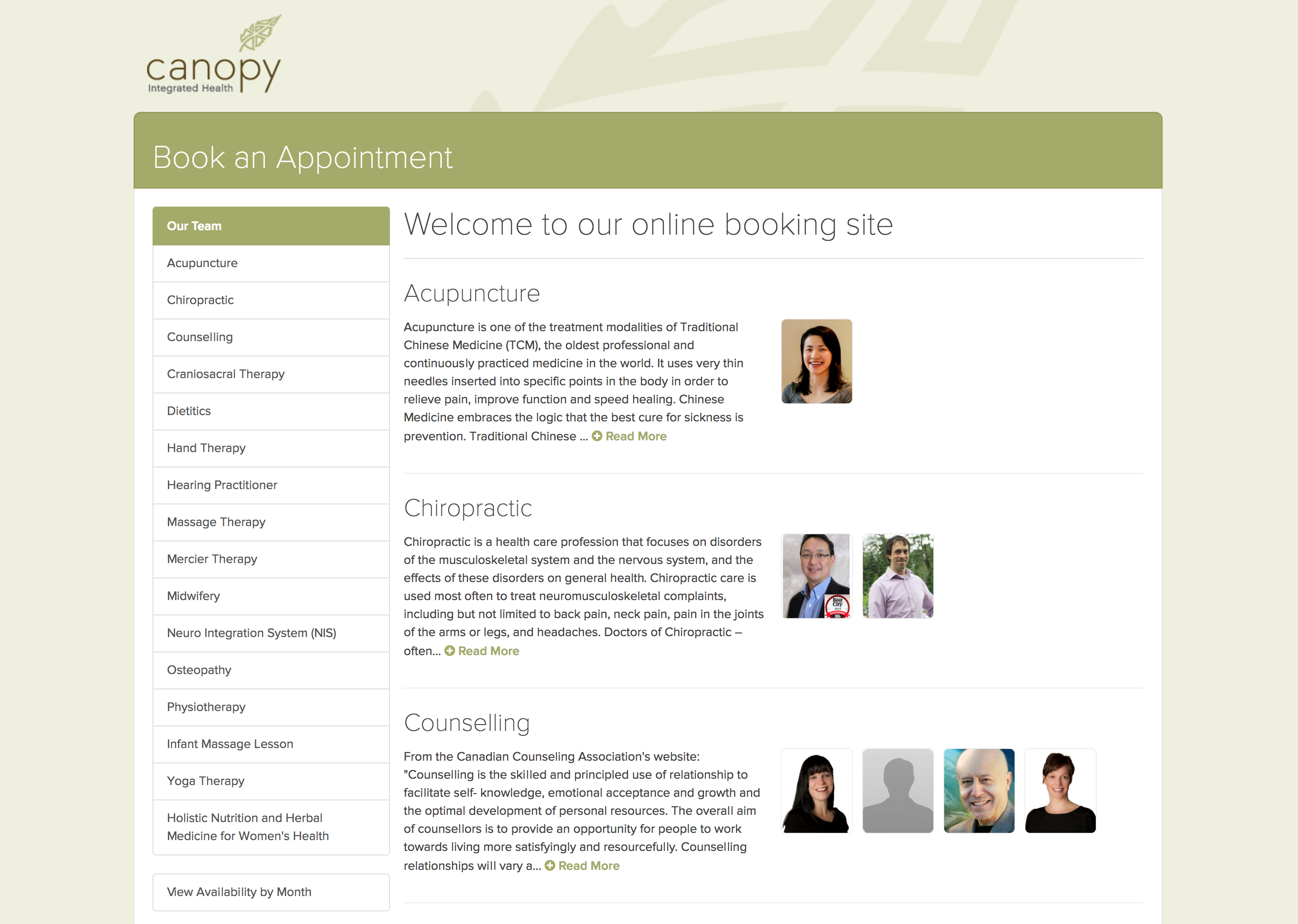 The page is clean and professional. Simply hovering your mouse over the practitioner's photo allows the client to access that person's calendar for booking. Everything is easy for the client, which gives them the path of least resistance to book.
#2 Brand your booking site.
We know - you've spent a ton of effort building an awesome website for your clinic.
Jane respects your brand.
You can work within Jane to add your brand's theme, messaging, colours, logos, and graphics to your online booking site. Email us at [email protected] if you'd like to upload a background image onto your page for an even deeper brand fluency between your website and your Jane booking page.
With Jane's branded booking site, you're providing your clients with an online equivalent to a beautiful reception area and friendly and professional front-desk staff. Many times, we don't remember exactly what people say to us, but we remember how people make us feel. This is the same for online experiences. When you make your clients feel welcome in your online space with Jane, you are building the trust it will require for them to book that very first appointment and then to keep coming back.
#3 Link from your website to online booking.
Your goal is to make everything as easy as possible for your clients to go from online researcher to booked client.
When people find you online, they're starting on your website. So make it as easy as possible for them to also click through to your online booking system. The best way to do this is by prompting Jane to place a button in the same place on each landing page that allows people to "Book an Appointment Online."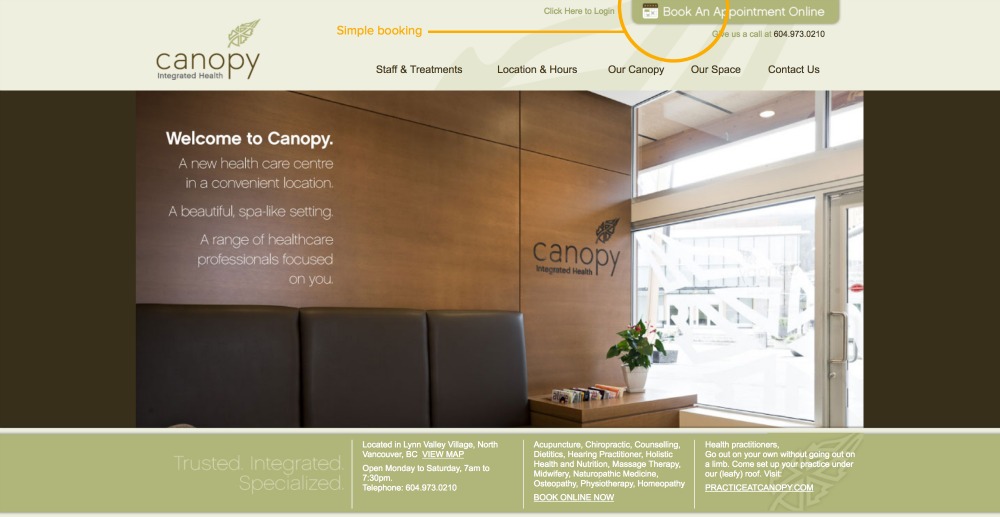 When booking online is made simple, you're instantly meeting client needs to save time and ultimately giving them the gift of a positive brand experience.
Pro Tip Some clinics are leaving all practitioner bios, treatment, pricing and services information only on Jane and linking their navigation bar to Jane directly. There's an added benefit of only having to update information like staff changes and fee increases on a single site.
#4 Show real faces and friendly buttons.
It might surprise you how important photos of your practitioners can be to the online experience. Humans are genetically programmed to be drawn to faces.
Adding profile photos to your online booking personalizes what is often a faceless internet experience. Never underestimate the power of seeing real faces.
You can work with Jane to give your potential clients a sense of the actual people they will meet when they arrive at your clinic. Jane can easily display head shots of your clinic staff and the practitioners clients have to choose from.
If you don't have great headshots available, it's nice to swap out the photo for a standard image of your logo or we have seen clinics even working with Bitmoji!.
Again, much of how you set up your page will be determined by the tone you want to set with your current and prospective clients. And sometimes it's interesting to play with which photo you display online. But at the end of the day, a great headshot is guaranteed to be really appealing to potential clients when they are choosing to book.
With Jane, adding photos to humanize your staff in online booking is really simple.
Inside Jane, go to your Staff Profile.

At the bottom of the page select "Edit."

In the Edit screen, select the "Online Booking" tab.

Scroll down to the bottom to the staff image – see below: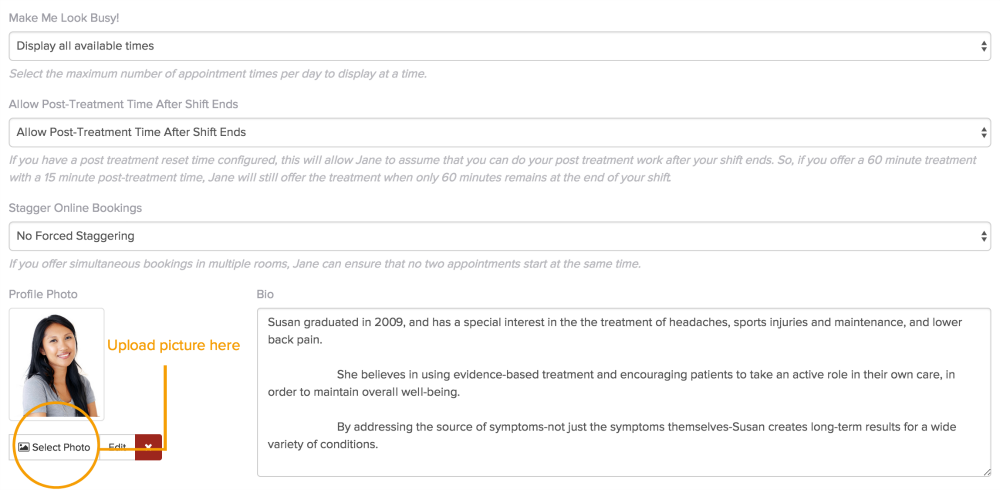 Click the "Select Photo" button.

Then choose a photo to upload.
Jane offers a basic editor to make some simple edits to your photo, and then…voila! The practitioner's image will appear for all images inside your online booking system.
Pro Tip When you do this, clients will be able to book with their practitioner of choice by clicking that person's photo (see #1 above). This makes it even more simple to get people from researching online to being booked clients.
#5 Minimize button clicks to book.
Each of these tips leads you to create a more positive online experience that shows, rather than tells, your clients that you care about their time. Booking online should be a frictionless experience. And when you are using Jane, you can always try it out and change things that aren't working!
When you open up online booking, it's not like opening a floodgate – it's more like a trickle that will build gradually over time, so don't be afraid to experiment.
As a starting point, you want to start by creating an incredibly low barrier to book. This means clients click "Book an Appointment" and then click as few buttons as possible in order to successfully complete the booking.
If you run into issues with such an open system and need to set up safeguards, such as user verification, Jane implements 2 types of user verifications:
The client is required to click an email to confirm their address or
The client is required to enter an SMS verification code.
If your clinic would benefit from these, go ahead and enable Jane to build that into your system. But at the start, it's often best to begin with the most simple process you can offer your client from landing on your website to receiving an email confirmation of their booked appointment.
You can always change your settings later if you are experiencing any sort of abuse of your online booking, but it's nice to start out with as much faith in humanity as possible.
A Great Online Experience Leads to Booked Clients.
Perhaps still underestimated in the healthcare industry, the online experience has become a critical factor that clients use to determine if they want to "walk past your front door" and keep searching online for other options or "stop, open your clinic door, walk inside" and book an appointment online.
Jane wants to help you turn strangers into clients!
If you'd like help getting your online booking pages set up to represent your practice, check out the "Online Booking" section of Jane's Guide! for articles like these:
Setting Up Online Booking Like a Boss!
Online Booking: Choosing What Is Offered (Locations, Staff, Shifts, Treatments, etc.)!
Or you can always contact us to Find Out More!