Sometimes called Recalls, sometimes called Treatment Plans - we thought that Return Visit Reminders was the most accurate term for Jane's notification system.
When would I add a Reminder?
Generally people add the return reminder in 3 cases. When someone cancels an appointment, when someone no shows an appointment (sigh) or when someone does not rebook their follow up after completing an appointment.
Jane tries to make that easy for you. When you No Show, Cancel or Delete an appointment Jane will ask if you want to add a Return Visit Reminder for that patient. Alternatively, you can use the Unscheduled Patient (Last Visit) Report to schedule.
Creating a Booking Reminder from the Schedule
You can add that reminder right from the appointment pane on the schedule. Scroll down to the Return Visit Reminders section. Use the "Add Return Visit Reminder" button to create a new return visit reminder.
You can choose a Suggested Date from the pre-populated time frames.
If you want to create a Treatment Plan, feel free to add as many reminders as you want to a single appointment. Jane will only send the reminder if the patient doesn't have a visit booked.
How do these Reminders get sent?
There are 3 ways that booking reminders can be sent, and you will see them listed in the Remind By dropdown when you create a return visit reminder.
Email (Automatic)
Email (Manual)
Phone (Manual)
If you select Email (Automatic), Jane will automatically send an email at 7am on the Reminder Date you have chosen.
If you select the manual Email or Phone options, Jane will populate a list for you of return visit reminders that need to go out. You can review this list daily and click a button to send the email or mark that you've placed a phone call.
This list of due reminders can be found in two places. On the main schedule, click the Reminders button at the top of the schedule and then flip to the Return Visit Reminders tab. Or head to the Reports section and click Return Visit Reminders option.
Reports
You can access the daily reminder list from the main schedule using the "Reminder" button. There are two tabs here - one listing the regular reminders for upcoming appointments based on your Phone Reminder Preferences, and the other is your Return Booking Reminder List.
Two other handy reports when working with the Return Booking Reminders are the "Return Visit Reminder" Report (shocking!) and the "Unscheduled Patients (Last Visit)" Report - from which you can add Return Booking Reminders by clicking on the report line for which you'd like to create a reminder.
Both are found in the Reports Tab
What Does the Email Look Like?
It looks like this: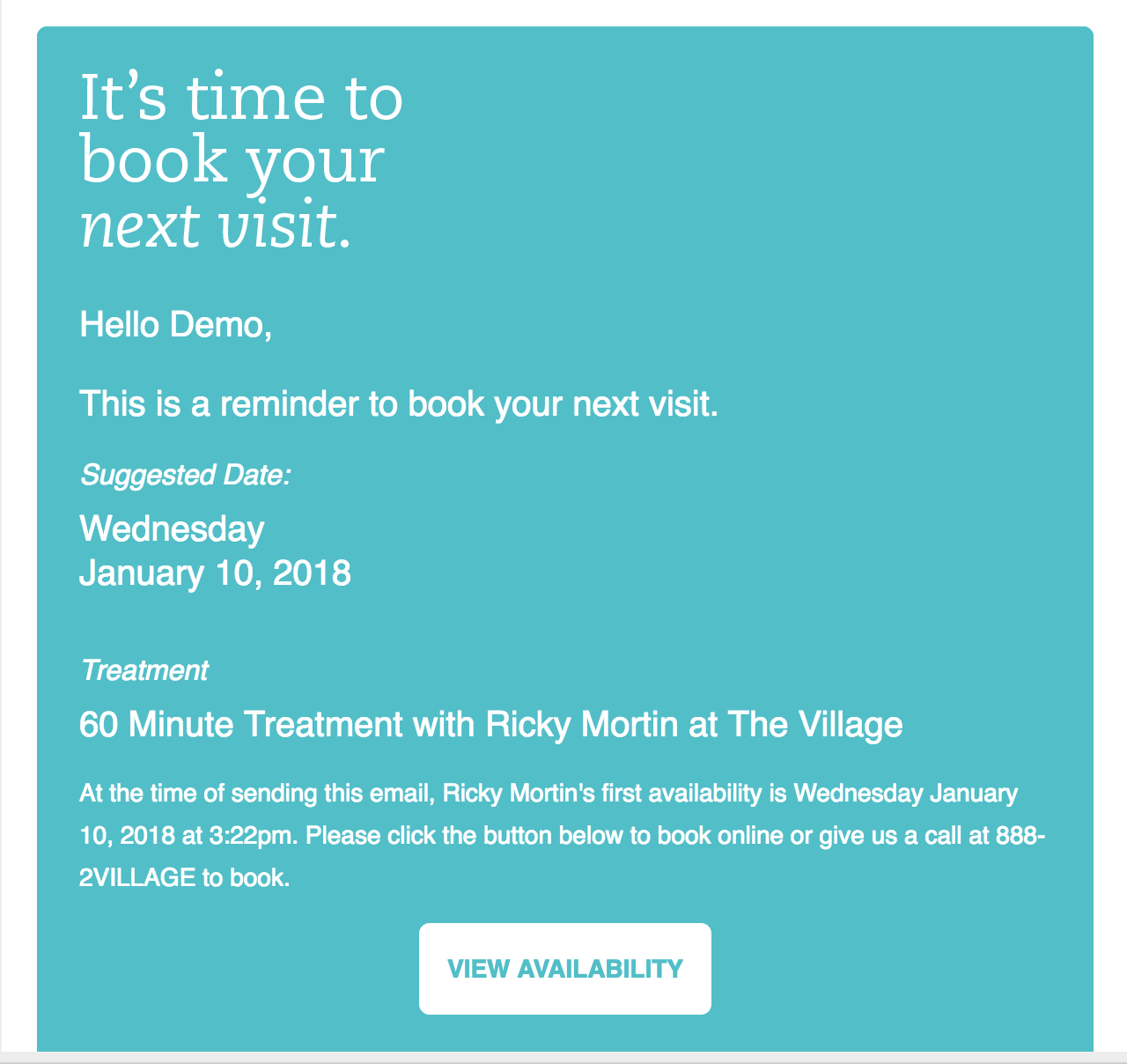 And will link to the appropriate online booking page if you have online booking enabled.
Let us know if you have any questions!