If you're away from your clinic and you need to access Jane, you're in luck: Jane works on the go too. You can access all of Jane's features through your smartphone. Simply open your phone's web browser and enter your clinic's URL to load the app.
Pro Tip: If you regularly access Jane on your phone, you can create a shortcut on your phone's home screen. This will give you access to Jane with a single tap, and Jane will fill up the whole screen, without the pesky browser address bars at the top and bottom.
It would look like this "Jane" button on your screen.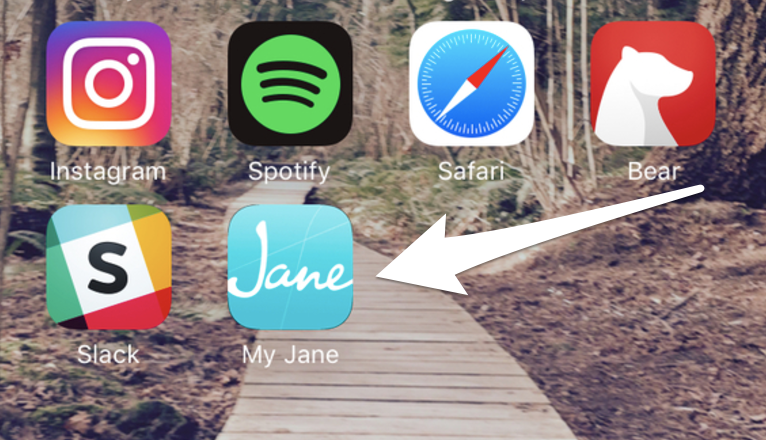 How do I save Jane to my home screen?
Step One: Sign into your Jane account using the Browser on your Device.
** Note that you'll need to be using Safari on iOS (iPad/iPhone) and Chrome on an Android device and if you regularly open and view PDF documents, it would be best to run Jane directly from Safari instead of a bookmark. Apple designed their bookmarks in a way that prevents easily navigating out of an opened document. **
Be sure you're not using a private or incognito browser if you want your browser to remember your username and password for easier access, or alternately use a private window if you don't want to be remembered.
In either case be sure you have a password on your phone or device for an extra step of security.
Step Two: Create the button
iOS:
Enter the Share option menu and then the "Add to Home Screen" button.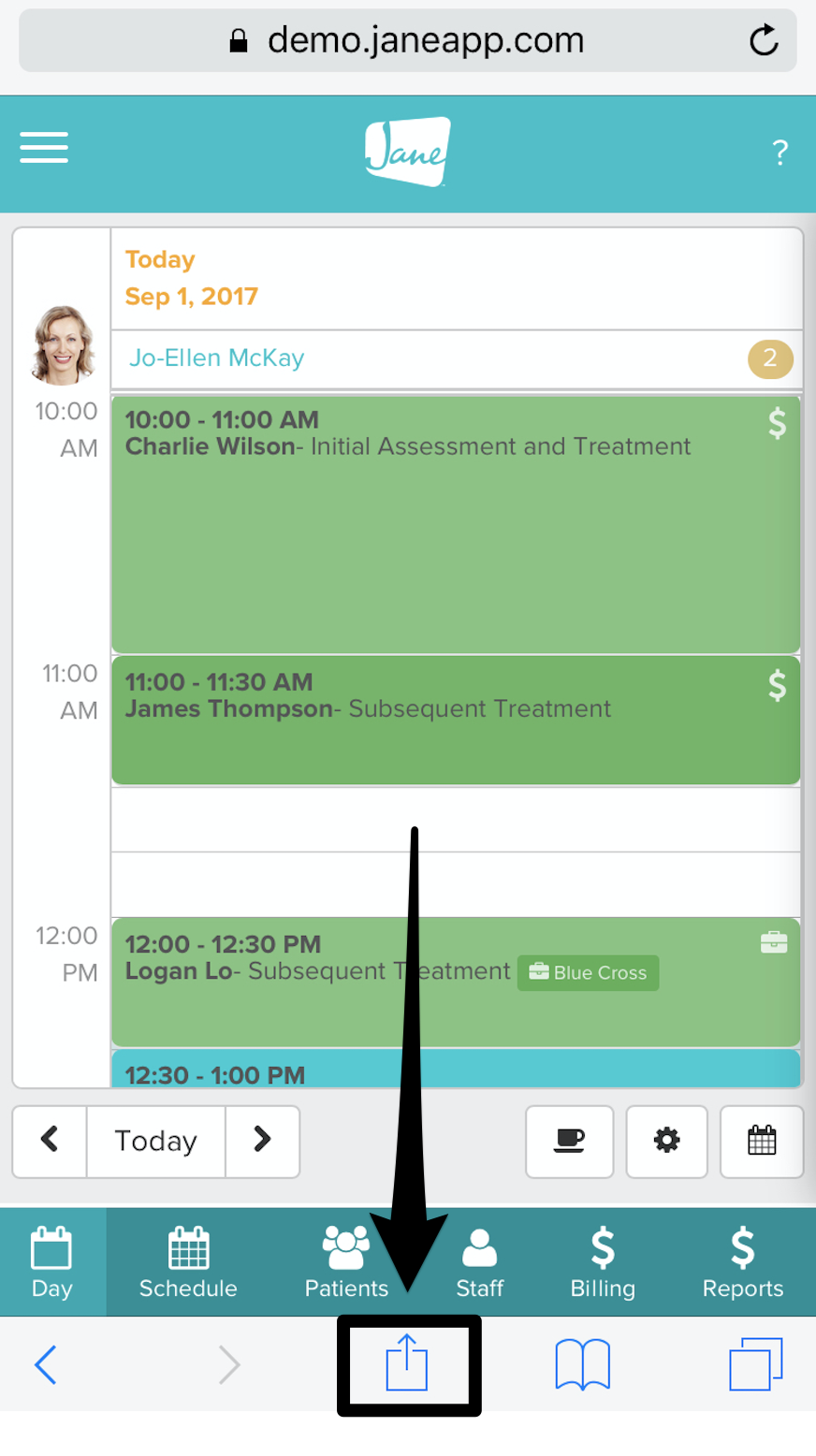 Add to Homescreen
Android:
Navigating Through Jane on a Smartphone
Finding your way through Jane on your phone is mostly the same as it is on a desktop browser, with a few key differences:
The menu bar normally found at the top of Jane is at the bottom of the mobile browser window, appearing as a row of icons. This is so that the buttons are easier to reach on your massive mother-in-law phone.

The options normally found in the Clinic Location Menu and the User Menu are accessible through the Menu Toggle button at the top-left of the mobile browser window.

On some pages you will see a "Back" button at the top-left of the window.

The Back button serves two functions:

It reveals the options normally found in the left-hand sidebar of Jane, which can't always be visible on a phone due to reduced screen size. For example, in the Schedule view, the Back button will reveal the Practitioner List.

If you are more than one level deep within one of Jane's views, the Back button will return you to the top level of that view. For example, if you're viewing a patient's appointment history, the Back button will return you to the main Patients list (which is the top level of the Patients View).

The back button will not appear if you're already at the top level of a particular view, or the sidebar is currently on screen. The Menu Toggle button will be in its place.

To add an appointment to the schedule using your smartphone, touch the schedule (wherever you want the appointment to go) and hold your finger there for a couple of seconds. This is equivalent to clicking the schedule to create an appointment in a desktop browser.

If you're looking for your week view on a smaller mobile device there's a quick way to get there from your default Day view.
Note: you'll first need to turn off the "lock rotate" button - (the one we all use so we can use our phones in bed).
Once your lock button is disabled, you can rotate your phone sideways, and then click your name in blue at the top of the schedule.
You should then get a full week view where you can scroll sideways to see the later week days.
The other trick to working on your mobile is to minimize the zoom of your appointments. This helps to condense everything into an easier to view schedule on a small screen.
You can find that setting at the bottom right of your screen in the "cog" menu:
If you click that cog you'll get a few options for your schedule and you can play around with tidying it up.
Smartphone, smart program. Nice.