A great question we are getting is how Jane helps clinics keep compliant clinical notes, charts, and medical records. We love to answer these because there's so much to talk about. Have a look for yourself:
Basic Charting Privacy Options
As a baseline security feature, charts have their own Charting Privacy Options. You can set the default chart privacy level on a staff-by-staff basis. What you choose will become the default rule that Jane will apply to all chart notes created by that staff member.
Practitioners can also choose to share their own charts with other individual staff members. This becomes helpful in various scenarios, for instance when a practitioner needs to provide chart access to a locum and then remove it after a period of time or when charts need to be shared with admin staff. You can add or revoke access here as necessary.
To share your charts with someone else in your clinic, go to a staff member profile, and click Edit: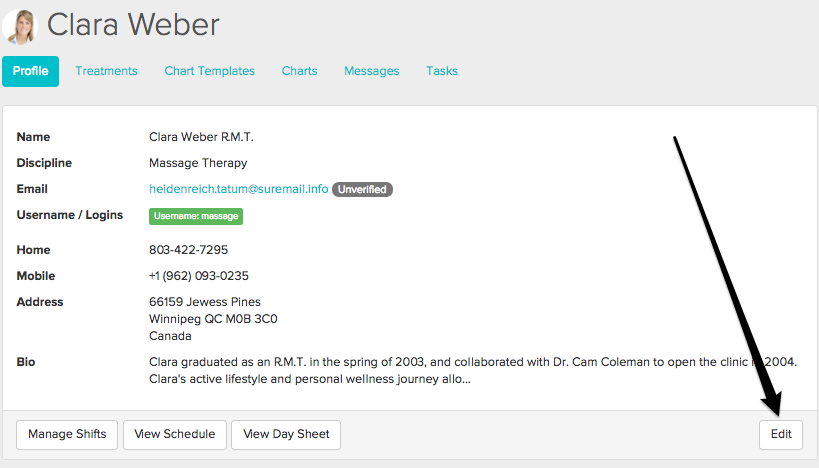 At the top, click "Settings"

Scroll down to "Default Chart Privacy"
What you choose here will become the base rule that Jane will apply to all chart notes created by that staff member.
Options are:
All Staff
All Staff in my Discipline
My Eyes Only

Once you've decided on your basic level of access, you can also add on individuals with whom you'd like to also share chart notes. Scroll down a bit more to "Share all my charts with:" and start typing in the name of the person you want to share with:
Note: As you start typing, the names are generated from your list of "Staff Profiles" for your clinic. So you can only share chart access with other practitioners or admin that have a Staff Profile in your clinic's Jane account.
The person's name appears in the drop-down menu, and once you select them, they appear in a list (with a simple trash bin next to their name if you ever wish to stop sharing your charts with them). Here, you'll see a setup where the chart notes authored by this practitioner will be seen by the practitioner - and Vincent, Frank and Amy.
Chart Content
Across disciplines, practitioners are typically required to document various types of information when a client or patient comes in for treatment. Of course the requirements include clinical details, but practitioners are often required by their specific bylaws to document other items as well, such as: name, birth date, address and phone contact information, family doctor, medications, referral source, informed consent for both treatment and information recording.
Jane was built to make the process of collecting and permanently storing compliant, private, and secure information as simple as possible, while also offering options that accommodate individual charting styles across disciplines.
With Jane, you can:
And if you prefer to not build things from scratch, you can always borrow a template from Jane's extensive Chart Template Library.
Each patient in your Jane account will also have a Patient Profile that is simple to set up.
Jane makes sure that the framework is there for you to record all of the information you are legally required to gather and to store that information securely.
Read our Security FAQ for more on Jane's servers and encryption levels.
Security of Clinical Notes: Signature & Chart Locking
In order to ensure integrity, paper charts historically required a practitioner's physical signature. Technology enhances the ability to comply with this regulation by providing the means to have signed charts become permanently un-editable records.
Most regulating bodies require that an electronic system that stores personal health information be designed such that original notes cannot be altered, deleted or removed from view. While it is ultimately the clinic's own legal responsibility to remain compliant, Jane wants to make this as easy as possible for all disciplines and therefore considers chart integrity to be a primary concern.
To create an electronic signature, you can create a file with your signature either by signing your name on a piece of paper and then taking a picture of it (just make sure the photo doesn't include a huge amount of "white space" around the signature. So when you take the photo, try to stay quite close to the signature).
Alternately you can create an electronic version using a site like Online Signature.
To add a signature to your profile in Jane, go to your Staff Profile. From there, click the "edit" button to get to some extra options. Head to the "Settings" tab:
There you'll find a field in which you can upload your signature:
Once you've uploaded the signature you'll see a preview of the image. If you don't see anything then try a different file type.
Then click "save" at the bottom of your profile.
When you export a chart it will look something like this:

With Jane, once a chart is signed by the practitioner, it becomes locked and time stamped, and a locked chart can never be edited without the changes remaining visible.
Locked charts are clearly marked with a locked padlock icon to help you keep track of which entries need to be signed and which are still sitting as drafts. For more information on how this works on your schedule, check out this resource: Sign and Lock Workflow
Chart Amendments
Circumstances sometimes arise where a practitioner needs to adjust something in a chart after it was signed. Charting standards require practitioners who make changes to charts be clearly identified. In paper charts this meant no white out (remember white out?), and electronically it means that the original entry needs to still be legible even after changes are made. Should a chart from your clinic ever come into question or become an item in a legal proceeding, Jane helps you stay protected.
In these cases, Jane allows a practitioner to add a dated Amendment to a chart. Amendments, once saved, also become a permanent and un-editable component of the chart. While you can add multiple Amendments if you need to make even more changes, each saved and signed Amendment functions like a saved and signed chart entry: it is locked and cannot be altered.
Supervisor or Countersignature
In the case where practitioners are in training or regulations require certain disciplines to be supervised by another medical professional, you can add a section to a chart template where the supervising practitioner will sign.
In Jane, charts are created using chart templates made up of various components. For instance, a Vitals section, Body Chart, series of Check Boxes, plus a Sliding Scale might make up a chart for first-time patients. In the case where there is a supervising practitioner who also needs to sign the chart, clinics can add an extra section called the "Supervisor Sign Off" template from Jane's Template Library.
When you're Creating a Chart Template for the practitioner that needs to be supervised, go into Jane's Chart Template Library and open the "Other" category. Scroll down, and you'll see several charts that were built to allow sign-off, like this one:

Once you add this to the chart template, the supervisor will have a clearly marked space to add evaluation notes or comments about the treatment and sign off on that treatment. In this example, the school has deemed a check-box sufficient for sign-off: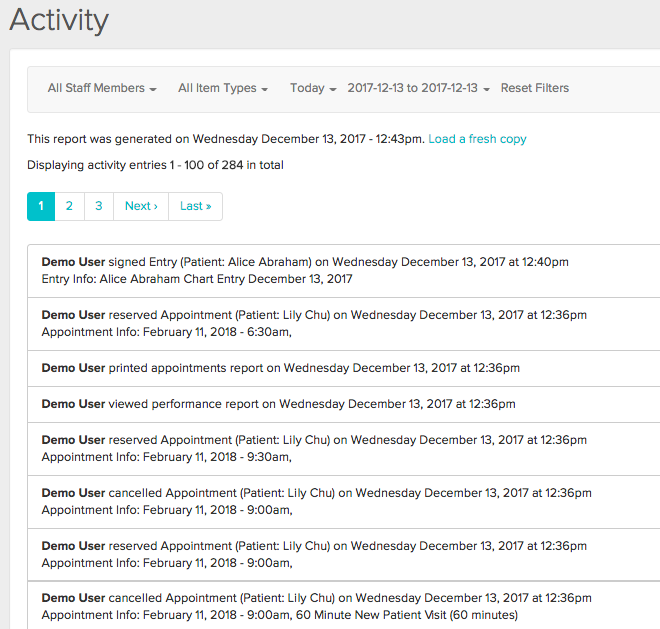 Once the supervisor is finished, the treating practitioner (the person who actually conducted the treatment) will sign the primary signature on the main chart entry and lock the chart.
Timestamping
Most regulating bodies require that clinical records are chronological and include the date of entry. Accordingly, Jane adds a timestamp just before any chart is signed and locked. Jane records practitioner name, month, day year, and time:

Sometimes by human error, chart entries get recorded under the wrong appointment date for various reasons. If a practitioner needs to change the date of a chart to match a different appointment date than was originally assigned, this can be done: Charting for a Past Date. If the chart is in draft mode, the date will be changed, and the signature and timestamp will reflect the moment the chart gets locked. If the chart, however, has already been signed and locked, you can still associate that chart with a different appointment date, but the health information will not be editable.
Staff Access Levels
Most governing regulations address the rights of patients to access their own health information and tied tightly to those issues are privacy concerns when clinic practitioners and other staff have access to electronic health data.
In most cases, patients have the right to a view and receive a copy of their health records, however the unauthorized access, viewing, distribution or other form of use of said data is unlawful.
This means that chart access permissions are a critical component of being compliant. Jane recognizes all of these issues and in response, provides several levels of protection for patient health records.
First, the owner of the Jane subscription has control over which practitioners and staff have access to what part of Jane under these 6 Staff Access Levels:
1 - No Access: for people who have left your clinic.
2 - Practitioner (Limited): can only see their own schedule.
3 - Practitioner & Practitioner (All Locations): sees all staff schedules, but only own billing
4 - Front Desk: sees all staff schedule, but only their own billing reports
5 - Admin/All Billing: sees Schedule, Treatments, Billing Codes, Products and Teleplan Info if you're in BC. and full access to Billing Info on all reports for end-of-day procedures.
6 - Full Access: full access to all settings and preferences, but requires permission to view other practitioner charts.
Tracking & Auditing Activity
For the most part, charting regulations across industries are fairly clear in stating that electronic health records management systems must have an "audit trail" that tracks who made the change and when. Jane, therefore, always keeps track of who is doing what inside your account. To access this information, the Full Access user will go to "Reports" and scroll all the way to the bottom to "Activity Log":

This report provides a list of which user did what activity and when: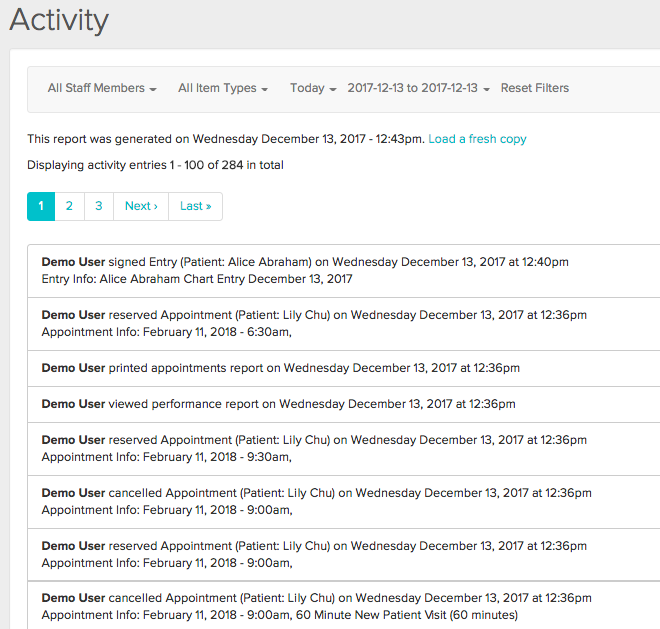 Jane misses nothing.