Physitrack is a secure and HIPAA-compliant platform for healthcare practitioners to offer high-quality home exercise programs, track patient adherence and video calls.
Jane's Physitrack Integration allows you to quickly add a Jane patient profile to your Physitrack account and begin prescribing exercises - all without ever having to leave Jane.
Please note: each practitioner who is using Physitrack would need to sign up for their own independent Physitrack account. Physitrack's pricing is per practitioner per month. If your clinic has 100+ practitioners looking to integrate into a single account, Physitrack does offer a clinic rate. For more information on this, you can reach out to Physitrack support at
[email protected]
.
You can sign up for a Physitrack Account by clicking the links below. It only takes a few minutes.
Special Pricing!
Due to an overwhelming response to our announcement about Physitrack, our friends at Physitrack are now offering a discount to all Jane users!
Clinics in Canada, Australia, and New Zealand will pay $13.99 per month with the promo code. Clinics in the US will pay $12.99 per month with the promo code. Clinics in the UK will pay £12.99 + VAT per month with the promo code. Clinics in the Eurozone will pay €12.95 with the promo code.
At the payment page, just before entering your credit card details, select Jane App as your affiliation and enter one of the following codes, depending on your location:
CA-JANE-APP-CAD
US-JANE-APP-USD
UK-JANEAPP-GBP (the missing dash is intentional)
IE-JANE-APP-EUR
AU-JANE-APP-AUD
JANEAPP30 in New Zealand
For those who already signed up with Physitrack, you can activate the discount inside your Physitrack account under My account > Subscription.
The discount will then automatically be applied from your next monthly charge onwards.
Jane & Physitrack
Here are the details to use Jane and Physitrack. All just fancy words for essentially copying and pasting a link from one program into the other.
Copy link from your Physitrack Account
Log into your Physitrack account
Go to your My Account area and then click Settings. Scroll down until you find the Integrations Menu.
Select Jane App from the drop-down and click Save Changes.
After you press Save Changes a new section will appear underneath Integrations named API Key
Check Enable API access to my account. Copy the API key and then hit Save Changes. (Both the API keys will be identical).
The Physitrack API requires that two API keys are copied over to your Jane account. Please check that both API keys on the Physitrack settings page match the ones in your Jane settings page.
With your API keys generated, you can then choose your preference for syncing programs automatically from Physitrack to Jane.
Paste Link into Jane App
Head to the Settings area in Jane, then select Integrations in the menu. Click the blue Get Started button in the top right of the Physitrack area.
Click Add Physitrack Account
Select your name and click Continue.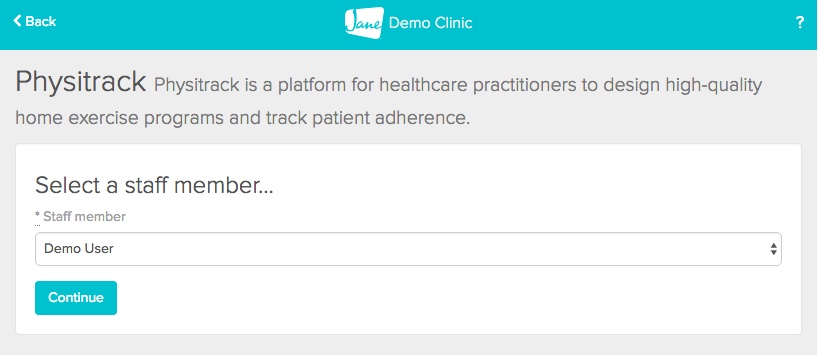 Go ahead and paste in your API key and hit Save. Voila- that's it!
You're all Set!
You can begin prescribing exercise programs from Jane with just a couple of clicks.
For further reading on Physitrack check out Physitrack and Jane Together.
---
If you're not already part of the Jane community, welcome! We're so glad you found us. Whether you're a Physiotherapist 🇨🇦 in search of practice management software or a Physical Therapist 🇺🇸 looking for an online scheduling system, we'd love for you to meet Jane. Take a virtual tour, book a demo with one of our lovely support staff, or sign up here!