Do you have a treatment you only want to offer on a specific day? Or maybe only in the mornings? Do you want to limit your initial visits to a couple of hours a day?
If so, Tags are a great feature to take advantage of!
You can tag your shifts and treatments (aka services, sessions, classes) with a tag of your choosing, sort of like a hashtag. And then Jane will only offer up availability for that treatment on shifts with a matching tag. It's a simple idea and really powerful in how it lets you control your availability.
Important Note:
Tags only apply to online booking. Staff will always have the ability to override tag requirements when booking administratively. Tags also remove the shift from View by Availability as she is reserving the time for specific patients
Most notably, Jane is a bit of a romantic when it comes to tags, and is always looking to match the perfect pair.
Untagged treatments will NOT be offered on a tagged shift. Appointments can only be booked into a shift with a matching tag. If you have not assigned a tag to your shift, any treatments with a tag will NOT be offered. If you want a shift to be bookable by two types of treatments, then you'll want to have two tags on that shift.
With that, let's get into the nuts and bolts of how to set this up! Note that you'll need to be logged in as a user with Full Access and have "Advanced Scheduling" turned on from the Schedule Settings tab under the clinic Settings area.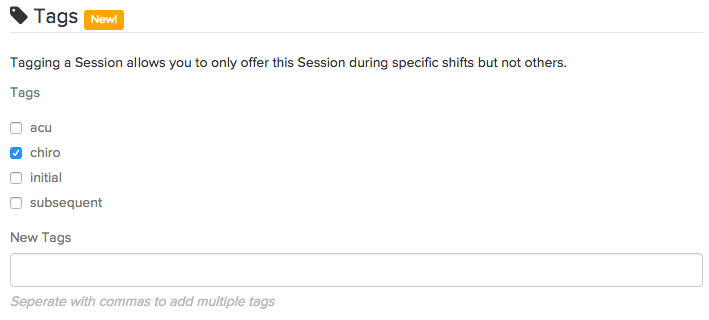 Create your Tags
The easiest way to create tags is on the fly - straight from the Shift or the Treatment you're editing.
Anywhere you can assign tags will have a field for you to search for or add new options. Just type in the tag you want to add, and press the Return / Enter key to save it as an option.
However, you can also create and edit tags under the Settings area.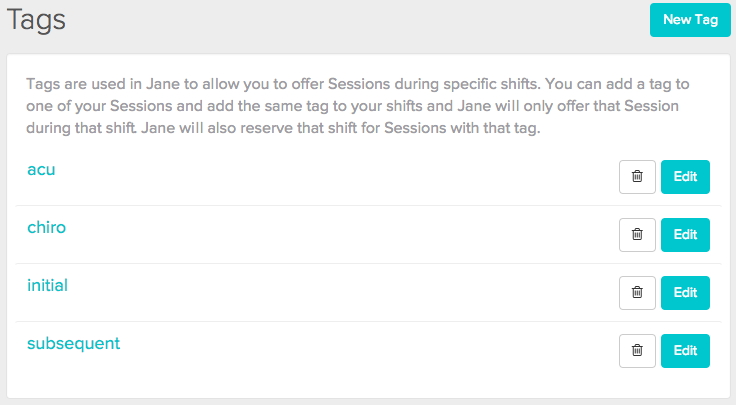 From the Settings tab, head into your Schedule Settings and make sure Advanced Scheduling is ticked on. While still in the Settings, scroll down to the Advanced Scheduling section and choose Tags.
Use the New Tag button on the top right in order to create tags.
You'll want to create Tags for any types of Treatments you're needing to restrict to a specific day or time.
Assigning Tags to Treatments
If those Tags weren't added when you first created the Treatment, you can head into your Treatments & Classes to add them now.
When you Edit one of your Treatments, you can check off an existing tag or add a new one.
Once a Tag is selected, this becomes a restricted appointment. If no Tags are selected, this appointment can be freely booked into any untagged shift.
Assigning Tags to Shifts

Let's say you offer Chiropractic services in the mornings, and Acupuncture services after noon.
First you will need to create your shifts. You can review shifts in more detail here: Adding Staff Shifts
If your shifts are already created, open your schedule and click the Shifts button on the top right to get into the edit view.
When you edit one of your shifts, you'll see an area to add tags at the bottom. Start typing in the name of your tag, select the appropriate tag, and Save:
Watch the magic happen
Now on your main schedule, click the magnifying glass next to your tagged treatment, and you'll see that Jane only lights up availability on shifts with that tag. Jane will do the same thing in your online booking.
And that's it! Looking for a little more? Check out some of the most common ways of Putting Tags to Work.
We love this feature, and we hope you love it too.
Have more questions about tags or setting up your unique schedule? Reach out to our Support Team for help!