There's a lot of people using Jane! There was a time when only administrative staff would work with the Clinic Management Software, but now with online booking and electronic charting you've got patients and practitioners in the mix too.
So how do you help your staff members who are having trouble logging in to Jane? This seems to happen from time to time - especially if a stored password is forgotten or a bookmark is lost.
First thing's first.
Username
Do they even have a username set up? Staff members can use an old welcome email or password reset button to link directly to Jane for a few days without ever completing the username/password workflow. Or when a practitioner loses their access they will sometimes accidentally set up a patient account in an attempt to log back in. Head to their staff profile and check it out.
Practitioners might just need a reminder of their username - or if they have set up a patient account in an attempt to get back in they might have only patient-level access when they log in. You can search for them in the patient list to see if that's the problem.
If they do seem to have a username in place on their staff profile, it's often just as simple as reminding them what the username is that they should be using.
Account Page and Administrative Access
If your practitioner has gotten themselves into the "my account" area, they might be confused about how to get to the administrative side of Jane. You can give them some details on how to get to the admin side from either the main view:
Or if they are in their mobile view, the Admin site can be accessed from the drop-down menu.
Log In Page
It's easiest for staff members to log in from a URL that ends with /admin. So if you head to your clinic.janeapp.com/admin you'll find a nice one-page login with the username and password together on one page.
Logging in from here might make things easier for people. It would be good for them to bookmark this page on their device for a simple login experience.
Welcome Email/Password Reset
If there is no username on the account, or there is, but the practitioner still has trouble, you can send two emails that might help with access. With no username, send the Welcome Email, with a username send a Password Reset.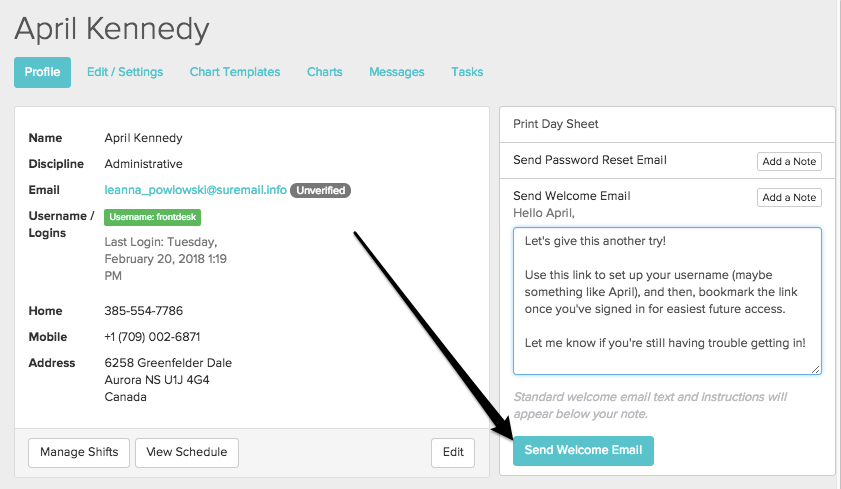 You can add a message to either of these emails before you send them out.
Okay - if after ALL this your practitioner is still having trouble, they are more than welcome to contact us directly to get some help either by email at [email protected] or on our phone support at 1-844-310-5263.
Hope that helps!