The College of Massage Therapists of Ontario have recently released a new Standards for Maintaining Professional Boundaries and Preventing Sexual Abuse which includes a section detailing that "Treatment of Sensitive Areas Must be Discussed with the Client and Written Informed Consent Must be Obtained".
We've done a couple of things to try and make it an easier transition and to remain compliant with the college Standards.
OPTION 1: Chart Templates for Electronic Consents
First of all, we've created and shared two templates into the Chart Template Library that you can download and use.
They're called Consent Form for Assessment/Treatment of Sensitive Areas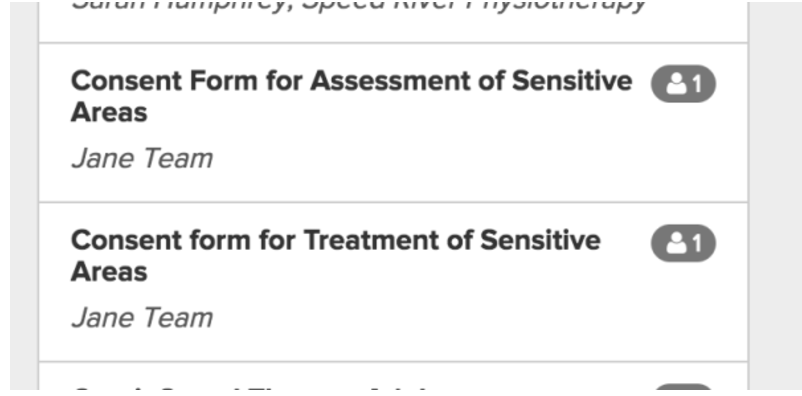 The template library is getting a bit busy, but if you search the "Massage Therapy" area of templates using Ctrl + F on a Windows device or Command + F on a Mac for "Jane Team", you should be able to find them!
Here's how to get there:
Head to your Staff Tab
Go to "Chart Templates"
Click on "Chart Template Library"
Open the "Massage Therapy" section
Search for "Jane Team"
Click on the template and "Add" to your library
They look like this: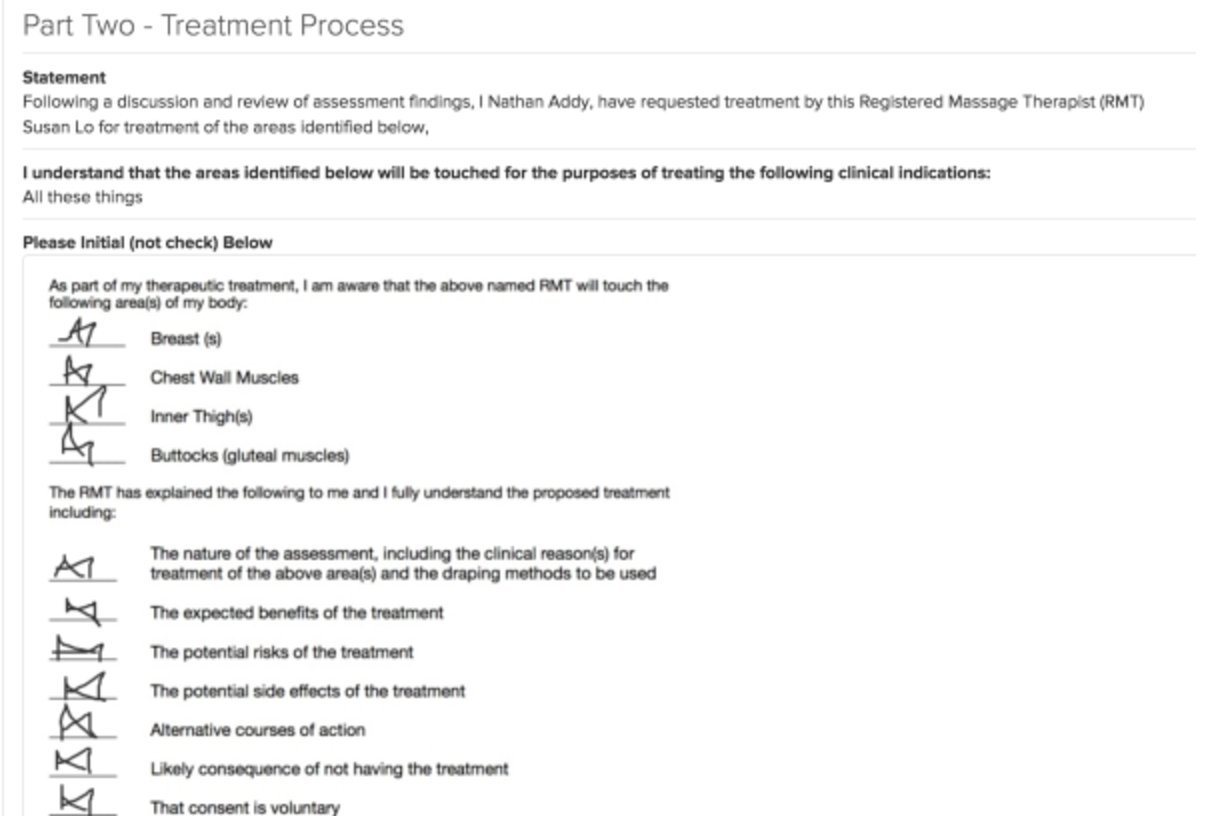 They also offer a spot for clients to physically initial the consent in your presence.
A note that if you're loading up the chart entry and then giving your client access to your device to complete the form, it's best to enable "Privacy" mode so that all patient names on the day sheet are blurred out. You can do this by clicking Shift+P on the keyboard or using the drop-down under your name at the top right corner of your screen.
OPTION TWO: Hard Copy Version
One of the other tips we recommend if you're more interested in working with a paper form, is to create the consent on a regular paper form and then laminating it on hard card stock (you can get this printed and laminated at most business supply, including Staples).
Once you've laminated the form you can have clients complete it using an erasable dry erase marker and then you can either scan and upload or take a picture of the form to save it to their chart. You would do this using the "File/Image Upload" chart piece.
Here's some more details about how to add scans to your chart: You can scan a document and save it to your computer, and then upload it to the patient's chart using the "File/Image" option.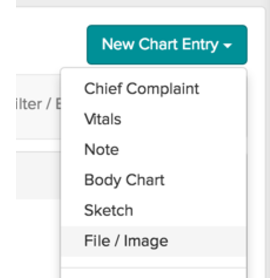 Then load the scan in as you would attach a document to an email.
Or use that same File/Image option and click the "Add Image/File/Video" button to take a photo right from your compatible device (iPad or iPhone) and load a photo of the document directly into the chart.

Here's a help document about Scanning and Uploading to Jane that could also be helpful.
Okay! That's it for now. If you have any questions or concerns please let us know and we'd be more than happy to give you a hand figuring out a smooth workflow.