There are several types of practice setups that might require another location to be set up in your Jane account. You might be a mobile practice and work in several different locations with different availability, or you might have multiple physical practices that share practitioners and client base and branding.
The first questions to ask are: "Should I set up multiple locations or have multiple Jane Accounts." That's an important question, and you can read a full breakdown of the pros and cons of setting up a single account with multiple locations versus opening a separate Jane account for each location by clicking here.
There's no charge for extra locations, and you can add them anytime in your Settings Tab.
Note: If you are moving from one location to another, you usually do not need to set up a new location. On the date of the move, you will want to update your location address and information in the location currently in use. You only need multiple locations if they are all being used at the same time. If you are moving your practice, learn more about how to update your settings and notify your clients by clicking here.
Add the Location
You will need Full Access staff permissions to get to the Settings area. But from there, you can choose Locations > Create Location to add another location to your account.
And don't forget to enable your maps while setting up your location. This will prompt Jane to display a map of your clinic's location in Online Booking and in any email generated from within Jane.
To enable your maps, head to Settings > Locations > Edit. Scroll down to the Location Map area where you can click to Display Map in emails. Click Save and you're done.
Add Your New Location to Treatments
You may be wanting to offer some of the same treatments at your new location as well. To do this, you'll need to edit each applicable treatment by heading to Settings > Treatments & Classes > Edit and checking the box next to your newly-created location.
Click Update Treatment and you're done. Now that treatment will be available at your new location too!
Opt Staff into the New Location
Now that you have this new location set up, you will need to let Jane know who works there! Within every staff member's profile, there is an area that lists all of your active locations. Head there to choose who should display at this new location: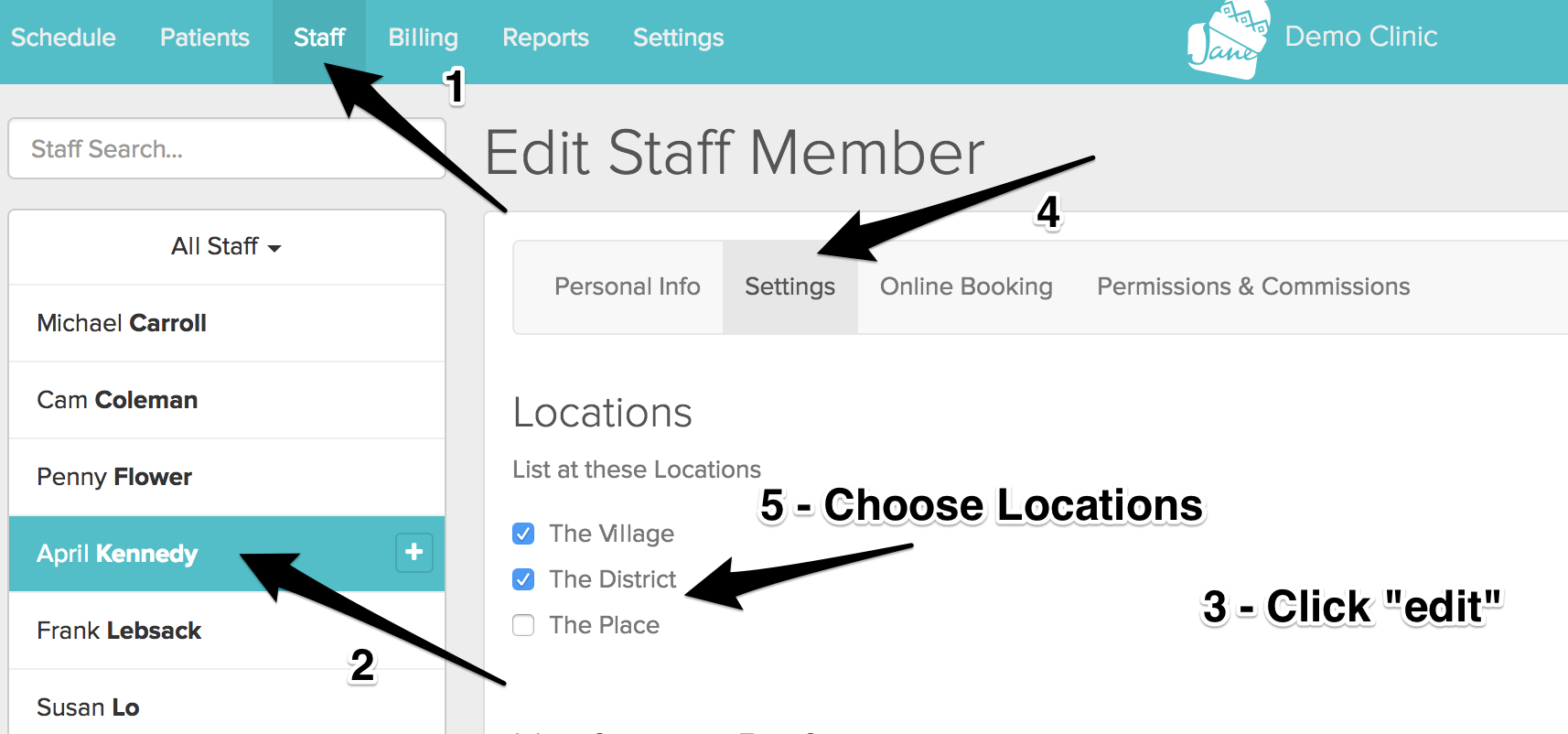 Add Shifts for Each Staff Member
Once you've told Jane who works at each location, you'll have to also clarify when each person works. This step is especially important for clinics using online booking because if you don't assign shifts, the staff members won't show up on your online booking page.
To create shifts on the schedule, first, create a Staff Profile under the "Staff" tab. See setting up staff for tips. 
Go to the Schedule Tab
Select the staff member you'd like to add shifts for on the staff menu on the left side

Select the Week view at the bottom to see the whole week

Depress the "Shifts" button at the top right hand of the schedule

Choose the day you want to create a shift for, and click and drag an approximate shift. Don't worry about being exact because an Edit box will open as soon as you let go. 
Set the boundaries of the shift - Remember to add extra time to the end of your shift if you're using a "buffer" between appointments.  For example, if you're booking a 60-minute appointment, but have the appointment set to 75 minutes, you would want to end your shift 15 minutes later to accommodate this 15-minute buffer at the end of your appointment.
Repeat for as long as you like. Remember to select an end date with the date picker to activate the repeat function. You can always delete or change a single shift later on without affecting the entire series. 
If you want to have a set break, you can create multiple shifts in a day. You can also create multiple shifts to control which spots show as available to online booking. 
Add your Payments Integration
If you have Jane's Payment Integration, then you'll need to opt this new location into your integration in order to receive payments online through Jane.
Head to Settings on the top bar of Jane, and then click Jane Payments on the left menu to view your Payment Integration.
You'll see a list of Jane Payments Accounts, and you can opt-in additional locations by clicking the pencil icon next to the integration:
Extra Tips
Report Filters
You'll now see a Location Filter on most of your reports (other than your Client List). Your Summary Report will also break down information location by location.
Short Cut Key
There's a short cut key to flip between locations - try using Shift + L on the main schedule to jump back and forth between locations quickly.
Pricing by Location
Another place you can further customize is on your treatments. Once you have more than one active location you can choose to offer different pricing by location if appropriate. Enable this feature in your Settings > Billing Settings area: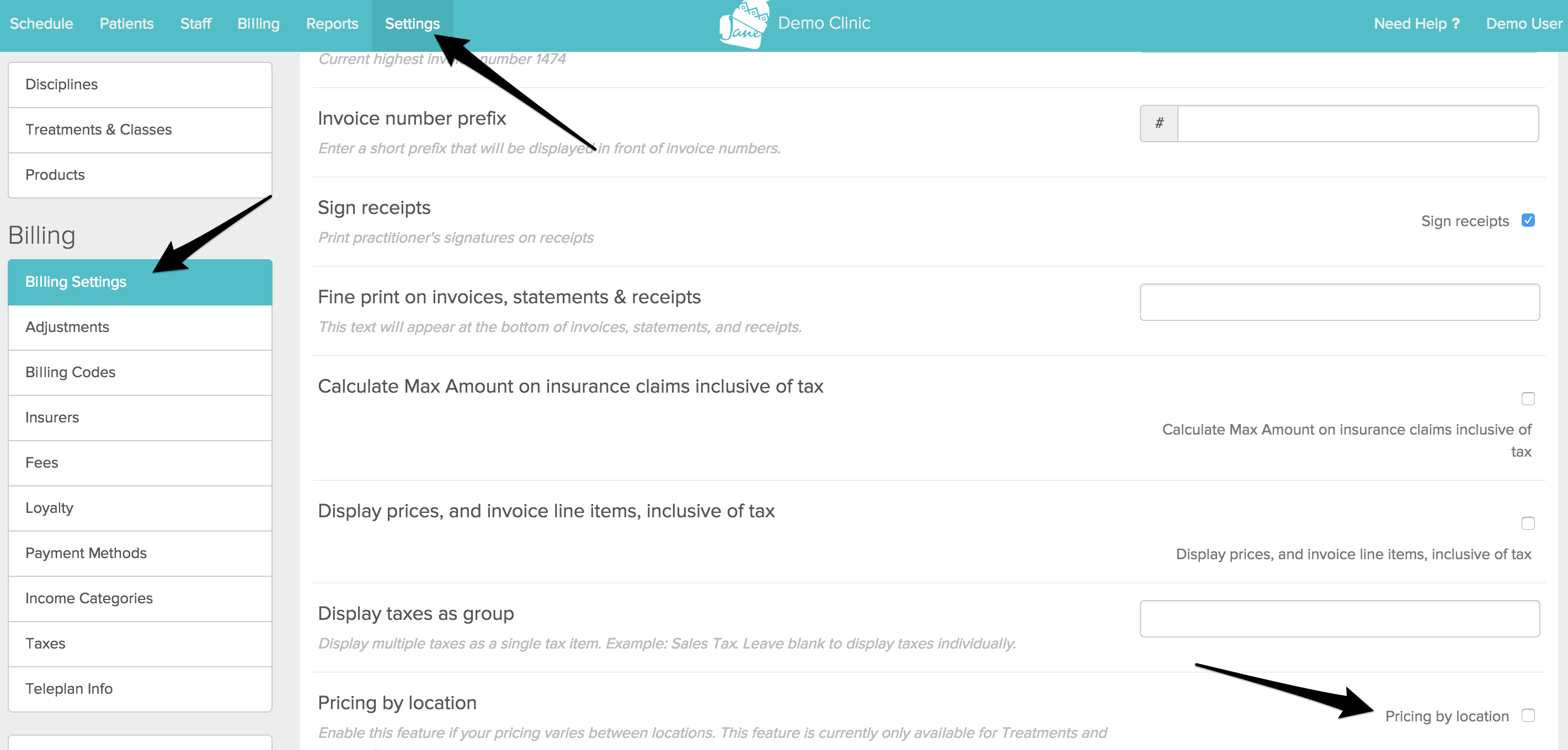 Once that's enabled, your treatments will show multiple fields for pricing: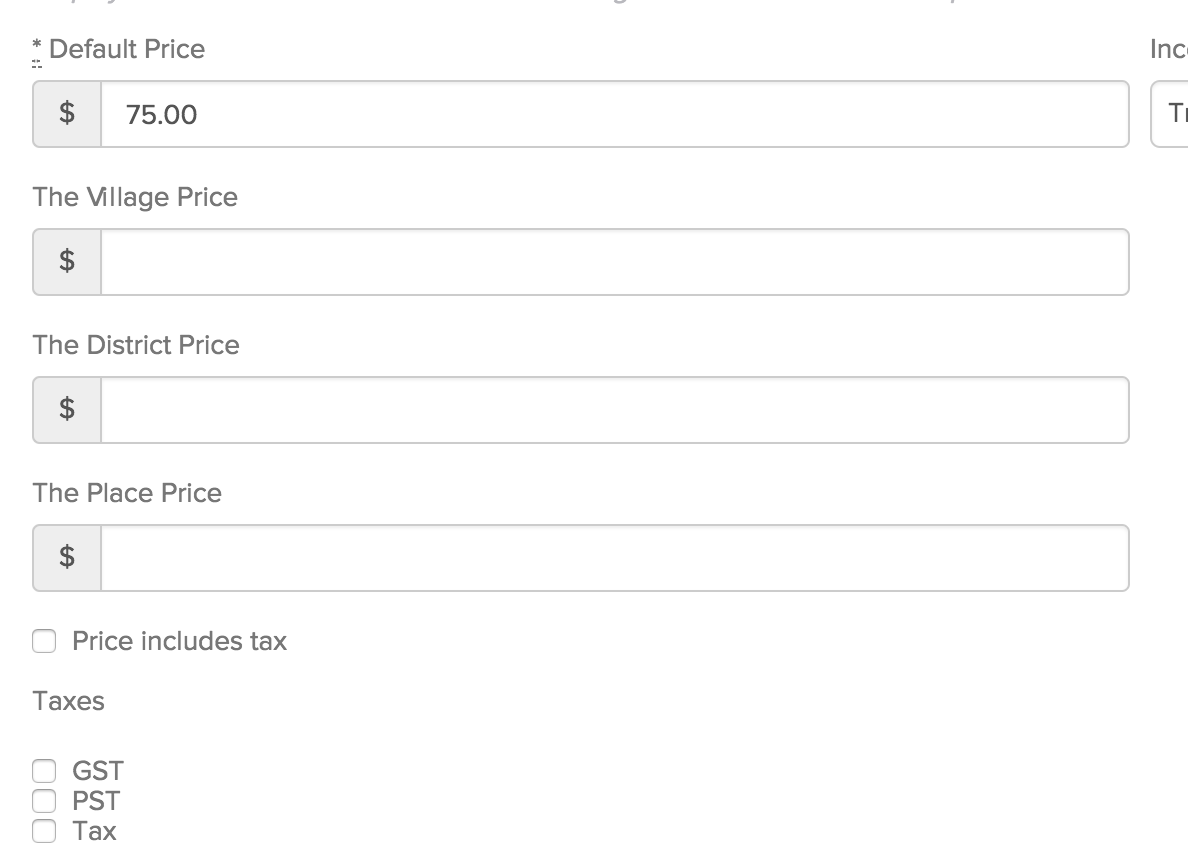 Inventory by Location
You can also manage and track your inventory amounts by location. Once you have more than one active location, you will see multiple fields for inventory amounts on the product.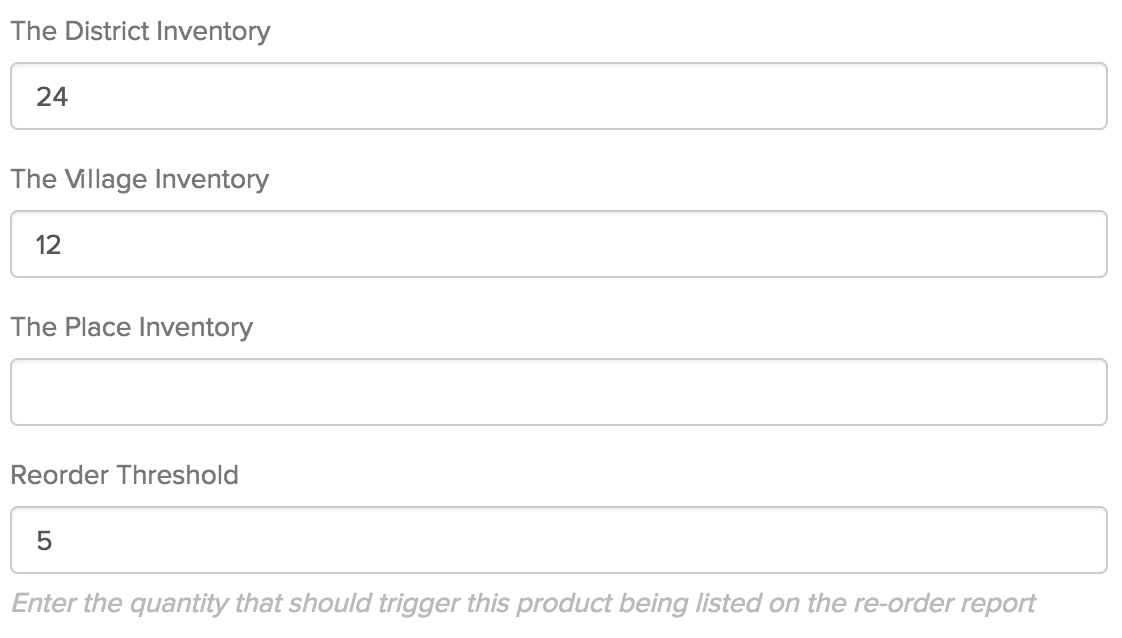 Jane will filter the inventory and re-order reports by location.
Location Dropdowns
You will also see location dropdowns both at the top right of your screen as well as on the schedule on the list of practitioners.